Cheesy Chicken, Rice and Vegetable Casserole
Prep

15

min

Total

60

min

Servings

4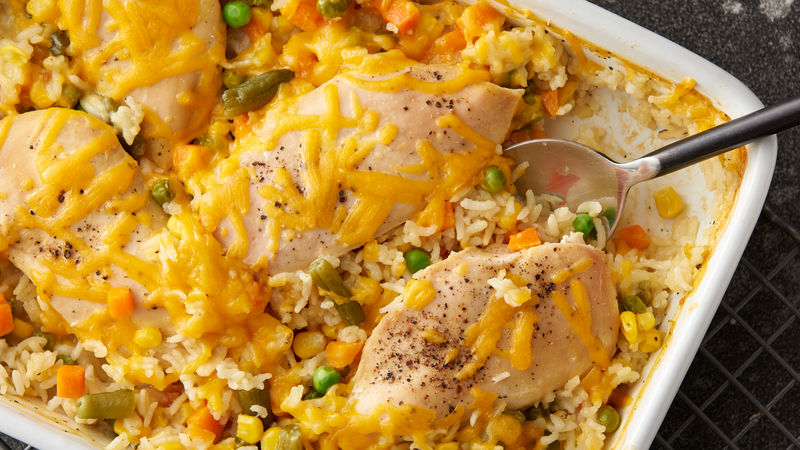 Ingredients
1 can cream of chicken condensed soup
1 1/3 cups water
3/4 cup white rice
1/2 teaspoon onion powder
1/4 teaspoon pepper
2 cups frozen mixed vegetables
4 boneless skinless chicken breasts
1/2 cup shredded cheddar cheese
Steps
1

Heat oven to 375° F. Stir soup, water, rice, onion powder, black pepper and vegetables in a shallow baking dish (2 quart).

2

Place chicken breasts on top of rice mixture. Season as desired. Cover the baking dish and place in oven.

3

Bake 45 minutes or until the chicken is cooked through and the rice is tender. Top with the cheese. Let the casserole stand for 10 minutes before serving.
This was real good but the big hit for the evening was the side dish...


Wilted Coleslaw
2 cups shredded cabbage
2 green onion, sliced
1/4 tsp celery seed
1/2 tsp salt
4 bacon strips
2 tbl. sugar
3 tbl. vinegar
dash of paprika

In small bowl, combine the cabbage, onion, celery seed and salt; set aside. In a skillet, cook bacon until crisp. Drain, reserving 1 tbl dripping. Crumble bacon over cabbabe mixture. To the dripping, add sugar, vinegar and paprika; heat until the sugar is dissolved. Pour over the cabbage mixture and toss to coat. Serve immediately. Yield: 2 servings.